ars astronautica texts and articles
Art Sent Into Space
Arthur Woods
2001-2008
Beyond painting and literature a handful of space artworks have officially been realized either in space or through the utilization of space technology.
Art works sent into space include:
1969: The Moon Museum a small ceramic tile carried on Apollo 12 on which American artists Robert Rauschenberg drew a straight line; Andy Warhol drew a penis; Claus Oldenberg drew the image of Mickey Mouse; and John Chamberlain, Forrest Myers and David Novros all drew geometric designs. (Hoban, 1985)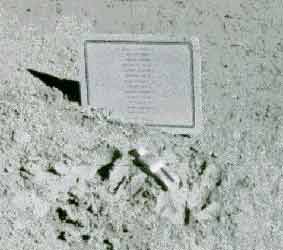 Paul Van Hoeydonk, The Fallen Astronaut
1971: The Fallen Astronaut - a small figurine by Belgian artist Paul Van Hoeydonk was sent and left on the Moon on Apollo 15 as a part of an astronaut's personal effects. (Hoban, 1985)
1984: Joseph McShane's Get Away Special (GAS) (G-308) which contained a system of spheres used as a materials coating experiment, originally conceived of and viewed as artworks upon return to Earth. McShane stated: "The sculpture S.P.A.C.E. is not the glass, but the outer space contained within. The sphere serves only to keep the one-g atmosphere from intruding on the space within, creating an anomaly of our common experience; a sculpture to observe and stimulate wonder about the nature and meaning of space, a sculpture to touch and know that only an 1/8" of glass separates one from space." (NASA, 1994)

Ellery Kurtz & Howard Wishnow: Vertical Horizons © 1986
1986: Vertical Horizons (GAS) (G-481) - Ellery Kurtz, artist & Howard Wishnow, Project Coordinator. An art conservation experiment sent into outer space on board the Space Shuttle Columbia. The experiment was enclosed in a G.A.S. canister from Nasa and placed in the cargo bay on a special mounting. Included in the canister as part of the experiment were 4 original oil paintings by Ellery Kurtz and other artistic materials in order to evaluate the effects of spaceflight on fine art materials.
In 1987, French artist Jean-Marc Philippe used a radio telescope to beam thousands of messages into space that were collected on the French Minitel system. Until his death in 2008, Phillippe was working on a time-capsule art satellite project called KEO. In 1988, Israeli artist Ezra Orion created a "light sculpture" by aiming a laser at selected points in the Milky Way. (Malina, 1990)
1989 Lowry Burgess's Boundless Cubic Lunar Aperture flew on the Space Shuttle as a self-contained "non-scientific payload". This conceptual artwork included holograms and cubes made from all of the elements known to science and water samples from all the world's rivers. The spaceflight was part of the realization of his "Quiet Axis" artwork. (Malina, 1990)
Carried out in the context of the AustroMir mission in 1991, Austrian artist Richard Kriesche transmitted an interactive video performance called ARTSAT to the cosmonaut crew on board the Russian Mir space station who returned the altered signals after one orbit which then interacted with various devices on the ground. The West cigarette company commissioned German artist Andora to paint the outside surface of a Russian Proton rocket launched in 1992 with examples of his art and as an advertisement for the cigarette company.

Arthur Woods: Cosmic Dancer

In 1993, Arthur Woods' Cosmic Dancer, an aluminum sculpture painted with acrylics was sent to the Mir space station. This artwork, perhaps the first specifically designed for a human habitat in orbit, was an investigation of the properties of sculpture in weightlessness and an experiment determining the advantages and disadvantages of integrating art into the living and working environment of the cosmonaut crew. A video and photographic documentation was made by the cosmonauts of them "dancing" with the sculpture and they provided an informative commentary on having art included in their orbitial habitat. The Cosmic Dancer project, which cost approximately 100,000 dollars to realize, was financed through the sale of an edition of 99 versions of the sculpture. The original sculpture, however, was never returned to Earth and may have been onboard the Mir when it was de-orbited on March 23, 2001.

Ars Ad Astra Exhibition on Mir 1995

Two years later, in cooperation with ESA in the development of their EuroMir95 mission, The OURS Foundation, a cultural and astronautical organization set up by Arthur Woods in 1990 to develop art projects for space, was responsible for organizing Ars ad Astra – The 1st Art Exhibition in Earth Orbit which, through an international competition, enabled 20 original A4 sized art works from different artists to be sent to the Mir station. These were: Alessandro Bartolozzi (I), Peter Binz (CH), Werner Beyeler (CH), Michael Böhme (D), Marcy Burt Butz (CH), Michael Carroll (USA), Chris Couvee (NL), Karl Draeger (D), Peter Eickmeyer (D), Marilynn Flynn (USA), Rudolf Halaczinsky (D), Rudolf Hanke (D), Sarah Kernaghan (IRL), Mark Maxwell (USA), Edward Mendelsohn (GB), Elizabeth Smith (USA), Ruth Trapane (USA), Andrea Thüler (CH),Claudine Varesi (MEX) and Amy Zofko (USA). The cosmonaut crew onboard the Mir consisting of Sergei Avdeev, Yuri Gudzenko and Thomas Reiter served as final jury and selected a watercolor by Elizabeth Carroll Smith called When Dreams are Born as their favorite. Their announcement of the winner was communicated during a live transmission which took place as the Mir passed over the Euro Space Center in Transinne, Belgium on November 30, 1995. Smith's work remained on the Mir while the other 19 artworks were returned to Earth and to the artists.
Also included with any list of "art flown in space" is Russian artist/cosmonaut Alexei Leonov (Soviet commander of Apollo-Soyuz - 1975) who carried colored pencils and paper with him to make the first eyewitness sketches of the Earth from space. His artist friend, Andrei Sokolov, probably the most noted space art painter in Russia, has had his painting(s) transported to the Mir station and arranged similar opportunities for the American and Belgian artists William K. Hartmann and Eric Victor and most likely for a few other Russian painters. A painting by artist Pamela Lee and Alexei Leonov were reported to have been carried on the U. S. Space Shuttle. (Roix, 1992) The German artist Charles Wilp has reported that he has had some of his art works taken to the Mir station as well.
It is known that the various space agencies sometimes take along art works as memorabilia objects - although this is not widely publicized.

Pierre Comte: Prisma

Primsa, a sculpture by artist Pierre Comte was taken to the International Space Station by French astronaut Claudie Haigneré in 2001. The sculpture consisted of 14 small painted spheres each 2.5 cm in diameter with seven limbs extending from its axis and was allowed to float in weightlessness. Over the years, astronauts and cosmonauts have often along taken art works with them on their missions into space – mostly small paintings or prints - including artworks by Pamela Lee, William K. Hartmann, Charles Wilp and Eric Victor.
June 16, 2000 - As part of their SYSTEM IV, Moving Plates project - a conceptual location sculpture - artists Andreas Baumann (CH) and Eva Wohlgemuthan (AT) fixed an engraved plate to the Cluster satellite FM 6 - Salsa which was placed in orbit after a successful lift off on top of a Soyuz-Fregat launch vehicle. The work would have flown on the maiden voyage of the Ariane 5 which crashed due to a software failure on May 15th 1996.
More recently, German artists Ragnhild Becker und Gunar Seitz had their aluminum sculpture Weltraum Visitor affixed to the radar satellite Terrasar-X which was launched into orbit on June 30m 2006 atop a Russian SS-18 rocket – which once was a military ICBM.
2003, On the last flight of the space shuttle Columbia were two art prints Coming Event by the German artist Michael Böhme whose work was also included in the 1995 Ars Ad Astra project.

Michael Böhme: Coming Event

June 2, 2003 - the European Space Agency launched the "Mars Express" to the planet Mars. The Mars lander called "The Beagle 2" was to have sent its first signal back to earth letting the project team know it has landed in one piece. This signal which will announce the safe arrival of the spacecraft on the surface of Mars was be a piece of music composed by the pop band Blur.
The space probe will also use a piece of modern art by British artist Damien Hirst to test it's instruments are still working accurately. Unfortunately the Beagle 2 was lost on its decent to the surface of Mars.

Launched on June 10th 2003, onboard a Delta II rocket with NASA's Mars Exploration Rover (MER) mission was a work by Australian artist Stephen Little called: Monochrome (for Mars) On January 3rd 2004 Spirit, with Little's art work attached, made a perfect landing in Gusev Crater. is stored on a DVD, which is mounted on the Mars rover. The DVD was produced when NASA invited the public to send their names to Mars. Nearly four million enthusiast's names were collected and listed on the disc. London-based Little went one step further by creating the artwork – red text reading "Monochrome (for Mars)" – but says he was limited by the medium. "I could have sent a physical object such as a painting but it had to be placed on a DVD, so I was limited by the space I had on it as well.
Before the advent of "Space Tourism", only astronauts or cosmonauts with artistic training such as Alan Bean and Alexi Leonov could claim the distinction of actually having been "there". Yet, this situation changed when Richard Garriott, the well-known video game programmer became the latest "space tourist" to visit the ISS. Not only did he take along an art exhibition incorporating art created by his mother, by sculptors, art submitted by artists through a competition and also art that Garriott created during his time in space.Before his flight he practiced alongside his mother, an accomplished artist, on several Zero-G flights with canvases and paint to experience the environment while creating zero gravity art. He believes his art will reflect the emotional experience of being in space and the physical effects of zero gravity. His ticket to create art in space cost more than $20 million.
Other artists, who don't happen to be multi-millionaires, will have to have some patience while the new space tourism industry currently under development by space companies such as Virgin Galactic, Bigelow Aerospace, EADS Astrium actually begin flying tourists - and artists - to the edge of space for only $200,000 per ticket.